Expert Articles & Advice
September 1, 2014
It's been a great summer and you've been enjoying your patio or deck as much as humanly possible, right? Well, remember early this spring when you opened up your deck and all of the work you put into it?
August 15, 2014
Window sills take quite a beating. Constant exposure to the sun, rain and ice can take a toll, especially when water finds its way beneath the layer of paint and caulk. Ongoing exposure to moisture can cause the still to rot, a process that only gets worse over time.
Special Offers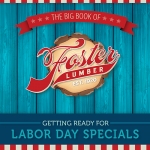 Click here to view our Labor Day specials!
Valid 8/08 - 9/02/2014
Events
Store Events!
Check back regularly for updated event information!
Videos
The Solar Powered "Fresh Air" Skylight
This video showcases the many features for the new Solar Powered "Fresh Air" Skylight including ease of installation, federal tax credit savings and other benefits.
More Videos brought to you by Foster Lumber Yard!